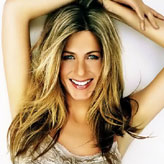 Ah, what celebs do for their craft! Jennifer Aniston braves the ghosts in the Heathman Hotel, Portland, where she's filming the romantic comedy, Management. Co-stars include Woody Harrelson and Steve Zahn.
Heathman Hotel, though one of the most luxe places in the city, is famous for being haunted. Guests have experienced screams, ghostly apparitions, and moving furniture. Some of the spirits even use the towels and glasses left in the room (though none have actually raided the mini-fridge).
Jennifer's staying in a suite that costs $1,200 a night, just two floors above the haunted room.