As the Gen X and Y celebrities are moving into motherhood, we see stars like Britney being walking motherhood don'ts, nay, motherhood horrors, and we are left wondering if the world really seems to be coming to an end.
Well, not really. If we can look at celebrities like Liv Tyler, whom I wrote about before, then we see that there is hope.
When I saw how Liv Tyler handled her son Milo in the same AOL video that inspired last December 1's post, I realized that there is hope for celebrity motherhood after all. 🙂 I just love her calmness and the sweet, loving and nurturing way she handled Milo as he got frustrated and irritated distressed with the way the paps kept snapping pictures of him and ignoring his request to "Stop the light!" Poor Milo! Great going, Liv! Bad paps! Very bad paps!
In other celebrity news, I just realized how nose jobs really are a fetish with Hollywood starlets. And no, Ashlee Simpson doesn't look as striking now with her new "proboscis," as the other gossip blogs have called it. I think she had a more memorable look before the nose job. Ashley Tisdale had a deviated septum that was the reason for her rhinoplasty. (Source) But it's still quite disturbing how, if in case the deviated septum was just a story, and if other kids didn't understand her reasons, but only saw her surgery as a license to have plastic surgery too, I shudder to think that my kids would follow her example too. I don't feel any more merciful even if she did suffer a panic attack because of that. I would like to give the benefit of the doubt, but in the fake world of Hollywood, they eat lies instead of cornflakes for breakfast.  It's pretty funny to think that both young role models were named "Ashley," even if Miss Simpson does have a funkier twist to her name. Frankly, my bottom line is, they really should lay off what Mother Nature gave them.
And lastly, when I came across this article about an Asperger's Syndrome patient who was on Tyra Banks' America's Next Top Model search, I couldn't help but think that Tyra seems to have a penchant for putting special cases on the show. First it was Mercedes with her battle against lupus, now it's Heather Kuzmich with Asperger's.
Though I would love to think Tyra had the best intentions, this video may well cast doubt on that.
Anyhow, I'm done with my survey and pseudo-philosophical musing on Hollywood, now on to today's wishlist!
Three days till Christmas, yay!
————-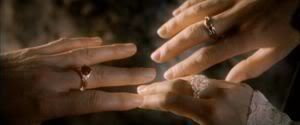 Though it's not a real object, and the movie's copy may be absolutely expensive (but did I bother to check on eBay? 😀 ), I sooo want one of these. But I would like Nenya (the brightest ring of the three), the one on Galadriel's (middle but to the bottom, feminine) hand. I love what it stands for, and if only, if only I can have beauty like that in my lifetime.. I would be honored. :p