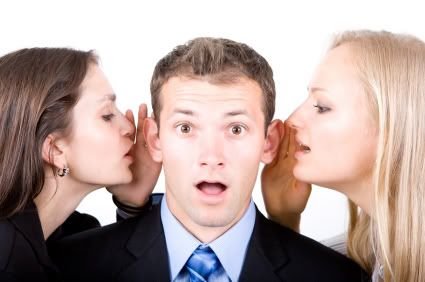 I used to have strong notions against women from my country marrying men from another country. I would always second-guess their motives, and I had such a bigoted notion about interracial marriage. Today, I came across this article, and I was struck about a couple of things about my culture that had been disappointing me lately, and I am struggling to overcome.

If there is anything that I am acutely aware that plagues Filipinos, it's the love of gossip and slander. Lately, I am going through a season in my walk with Jesus in which He is teaching me to consecrate my lips to Him. I learned that:
Complaining is not just a "bad habit." It is like bacteria: it propagates itself, especially when reinforced or "fed."
Telling your friend about an issue with another friend is not "dealing with the issue," it is pure, plain, and wicked slander.
The more you say "no" to gossip, the more the desire for it dies down.
In this article, it wasn't the racism itself that I saw. Rather, it was the way people slandered each other that was more disturbing.
There are days when I wonder if other cultures had these same ills my culture has. I love my country and I love my people, don't get me wrong. But it's a true eye-opener when you realize how there is a sort of cannibalism among you and you realize that you were once, and sometimes are, still a part of that mess of verbal damage.
My epiphany that I was actually slandering my friends happened when my best friend had disappointedly remarked, "It's pitiful, then. Satan was using you to slander me." From that point on, my eyes started opening up to what great evil I had sowed by complaining about, or even just "stating facts," about my friends.
Don't get me wrong, this is an uphill climb for me too. It is a daily, moment-by-moment decision that I have to take, not to complain about another person, or to choose to not state the "facts" of friends' pasts. I realized that I had become a big danger to my loved ones, and it was time to nip it in the bud.
So what should a person do in order to keep from slandering friends and family?
Choose not to corroborate negative stories. If you are in a conversation denouncing a friend or a family member, choose to not add to the "facts." Choose to stay silent. If it's juicy, resist the temptation.
When your friends or family entreat (more like seduce) you to tell the details of bad deals or whatever, choose not to glorify the request. Maneuver your way out of the conversation by a succinct "Let's leave it at that." Even if your mother is entreating you to tell more, discipline yourself not to damage another person.
If you can start to, start to steer clear whenever you sense a slanderous conversation is about to start. Better not to hurt someone else than to take part in tearing that person to shreds, verbally.
Understand the power of your words. You cannot be irresponsible with your friends and family. If God spoke the world into being, do you not realize how powerful the spoken word is? Choose to speak life: positivity!
And lastly, remember that:
Small people talk about other people.
Average people talk about events.
Big people talk about IDEAS.

So, what kind of person are you? What kind of person do you want to be?

Photo Credits: