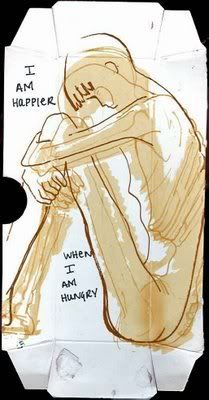 When I look at the PostSecret posts whenever I amble over to their website, I wonder where the predilection to peek into others' secrets comes from. I mean, the gossip industry does not thrive for anything but that human preponderance to peer into others' lives, especially those areas labeled "secret."
When you read into the messages on PostSecret.blogspot.com, you would realize that so many people are hurting. I could only judge the experience by how I had been affected by reading these people's stories.
It's amazing how one postcard, one image, one post could show so much of a person's life. I am amazed at their courage to show their secrets in that form. I know for a fact that most people abhor feeling vulnerable, so it must have taken a lot of them to allow the world to see how life wounded them, how they had been betrayed by those they trusted, and even those little salacities that they enjoy indulging in.
I, for one, react to these postcards with a mixed kind of fascination and other emotions besides: fascinated that other people actually live worse lives than I; fascinated that there are real people out there who have actually experienced those injustices and abuses that I used to think happened only in books and in those melancholy/melodramatic novels.. I also feel chilled at how life deals a heavy hand on a lot of us, actually. More so, I feel a little helpless that so many of us are this wounded and they don't even know how to deal with their wounds.
I am touched that some people are moved to pray for these sad, broken and bleeding hearts, as he/she says in this postcard: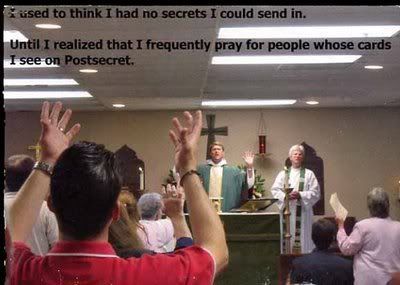 But I wonder why I do not have the grace to pray for these people.
And yet, ultimately, I am more amazed that PostSecret helps people release their burdens. I just wonder until when they will use things like these as a crutch instead of turning to Jesus, who can balm all their ills. He won't even expose these wounds, unless, with the cooperation of the wounded but healed, He will use their story to heal others..
Either way, I hope that people would find, well, hope, even in strange circumstances as they have in the PostSecret community.
Photo Credits: