IN THE COUNTRY OF JAPAN, an island nation in East Asia, there are special districts, known as karyukai, that are dedicated to the enjoyment of aesthetic pleasure. These are the communities where the professionally trained female artists known as Geisha live and work.
from "Geisha, a Life" by Mineko Iwasaki with Rande Brown
Gion, Kyoto is one such place always mentioned in Geisha novels. A deep amount of culture and tradition makes its home in the numerous okiya (geisha houses) and ochaya (teahouses) that line the streets. Considered the most famous geisha district, Gion is only twenty minutes away by bus from Kyoto station.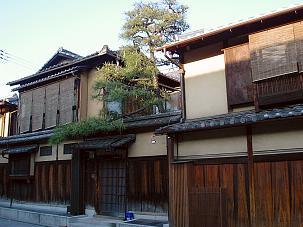 traditional Gion along Hanami-koji
Although there aren't as many geisha or geiko (as others prefer to use) in Gion as there were a hundred years ago, the place still casts the same spell as it did before. Compared to Japan's other cities, Kyoto still possesses a more laid back and traditional atmosphere.
a geisha running along the streets
Unfortunately, the ochaya are also as strict with the rules as before. One cannot just enter a teahouse without being recommended by a regular. Tourists that don't have an ochaya-stop in their itinerary also won't be admitted. However, it is quite common to bump into a geisha apprentice hurrying along the streets at night.
The Yasaka Shrine (once called the Gion Shrine) is a very famous Shinto shrine in Gion which hosts the world-famous Gion Matsuri every year. This festival began in 869 when mikoshi (portable shrines) of the shrine were paraded through the streets of Kyoto as protection from an epidemic that had plagued the city. It is also flocked by the people every New Years.
Other traditions still in practice include the Miyako Odori (Cherry Blossom Dances) and the "Dances of the Old Capital" performed by the Gion Kobu. The Miyako Odori is the most popular annual dance in Gion and was also mentioned in the bestselling novel "Geisha, a Life."