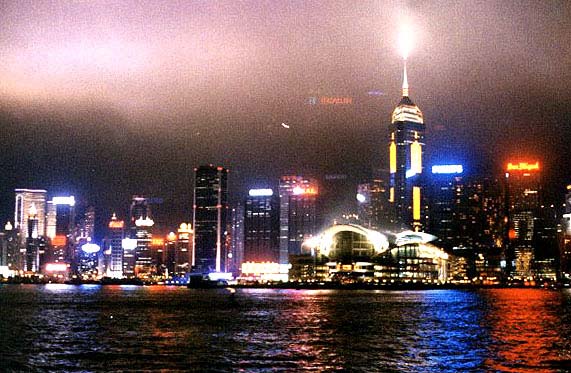 If you've been to HongKong, you'd definitely know the distinct experience it offers to tourists, businessmen and long-term vacationeers.  Culture is the main offering that this open city offers its visitors.  A mix really of several south east Asian cultures such as Indian, Vietnamese, Filipino, Singapore/Malaysian and Thai.  While the Chinese culture overwhelms it somehow balances out as the city government has zoned them quite well.
Let's talk about food:  
The food is not salty or greasy and seafoods are prepared especially well, usually served with steamed rice. Specialities include Dim Sum (savoury snacks, usually steamed and served in bamboo baskets on trolleys). These include Cha siu bao (barbecue pork bun), Har gau (steamed shrimp dumplings) and Shiu mai (steamed and minced pork with shrimp). The emphasis in Northern food is on bread and noodles, deep-frying and spicy sauces.
Specialities include Peking duck and hotpot dishes. Shanghainese food is diced or shredded, stewed in soya or fried in sesame oil with pots of peppers and garlic. Chiu Chow is served with rich sauces and Hakka food is generally simple in style with baked chicken in salt among the best dishes.
Let's talk about the nightlife:
There are many nightclubs, discotheques, hostess clubs, theatres and cinemas. Cultural concerts, plays and exhibitions can be seen at Hong Kong`s City Hall which also has a dining room, ballroom and cocktail lounge.
The Hong Kong Cultural Centre, including a 2100-seat Concert Hall, 1750-seat Grand Theatre, a studio theatre with 300-500 seats and restaurants, bars and other facilities, has become the major venue for cultural concerts, plays and operas.
Hong Kong Art Centre in Wan Chai supplements the City Hall`s entertainment with culture in the form of Chinese opera, puppet shows, recitals and concerts. American, European, Chinese and Japanese films with subtitles are shown at a number of good air-conditioned cinemas.
Now about the best thing HongKong is known for… Shopping! :
Whether one is shopping in modern air-conditioned arcades or more traditional street markets, the range of goods available in Hong Kong is vast. Many famous-name shops have opened in Hong Kong, bringing the latest styles in great variety. Places that display the HKTA sign (Hong Kong Tourist Association) are the best guarantee of satisfaction. Bargaining is practised in the smaller shops and side stalls only.
There are excellent markets in Stanley on Hong Kong Island, which is in a beautiful setting in a small village on the coast, and in Temple Street, Kowloon, which is a night market. Tailoring is first class. Except for a few items such as liquor and perfume, Hong Kong is a duty-free port.