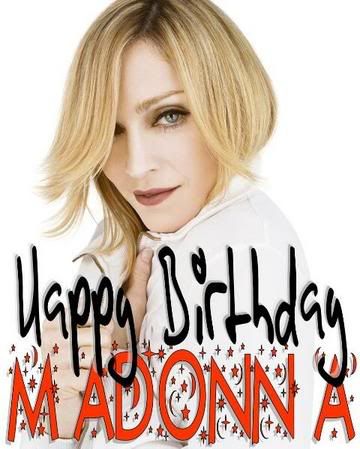 Well loved queen of pop Madonna has spent 50 revolutions around the sun!  That's an awesome feat for someone who's energized the world with good music… first-class entertainer.  Madonna Louise Ciccone Ritchie (born August 16, 1958) is from Bay City, Michigan.  Moved to New York city for a career in modern dance.  After 25 years in the music biz she has everything under her belt:
Guinness Book of World Records lists her as the world's most successful female recording artist of all time.
She's the top earning female singer in the world, selling around 200 million copies of her albums with a net worth of US$400.
She's acted in 22 films and while most of them haven't been "that" successful, each film has made a firm mark and public recall.
A recently inducted member to the Rock and Roll hall of fame (March 10, 2008)
We love Madonna here.  Her most striking performance, at least for me, was as Evita Peron.  I think she was made for that film.  A very moving actress.
Congratulations Madonna!
And a very happy birthday from Froodee.com.  🙂