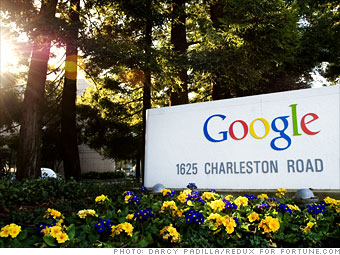 According to CNN's Money website Google's the top company to work for.  Why, well, simply because Google's been birthing out millionaires because of their stock options.  99% of Google employee enjoy soaring stock options as the stock cracked the $700 mark.
Currently Google's got 8,000 employees, 50% of them are in the USA and the rest are spread all over the globe.  There are about 800,000 employment applications that goes through the human resource system.  Quite a LARGE mailbox huh?  🙂
And check out some of the company's employee benefits:
1.  120 hours of professional training
2.  Onsite child care
3.  Onsite gym center
4.  Subsidized gym membership
5.  Women and minority friendly (30% each)
6.  Telecommuting friendly
7.  Stock options
OK, while these benefits do exist in other companies too Google must be doing it par excellence.  
Would I want to work for Google too? Umm… YES!  I've been dreaming to work for them and I'd be sending a resume soon too.  I've got a friend who manages the South East Asian hub and by the looks of her… she's enjoying her time.